Upcoming releases include an EP on DJ Stingrays label Micron Audio Detroit and three vinyl Ep's in the very near future.
JUST RELEASED
Galaxian - "Repent"
(TF 032 Transient Force)
"Galaxian's debut album "Repent" has touched ground. Starting with songs like "A Fighter" and "Monom" are a high speed injection of voice manipulation and beautiful rhythmic sounds all melting together. Next we have "False Flag" and "Strap on" both a strong and industrialised brain crushing experience. Programmed beats are at its finest in "wet level" with deep bass lines making this one a must to be played loud! With songs like "If You Want" the progression of change and melodic undertone of beautiful chords leaves you speechless. Galaxian has come with a MASSIVE debut release"
TF
"it's heavy and a bit fucked up but also intelligent"
NULL + VOID
"If you want a serious flex on your sound system complete with detroit heavy, rolling, jackin beats I don't think you're going to find a better release than this one from Galaxian. Seriously impressive, Galaxian is a major force in electro. Essential listening"
DVNT
"This is most definitely not electro by the numbers"
"reminds me in a strange sort of way of listening to old funk bands"
"building and building till the energy almost breaks out of the track. That is the sound of Repent"
"This is one of those rare albums that would be at home equally for headphone phreakz getting blunted at the crib, as well as for adventurous DJs with a willing crowd"
DJ MAD WAX
ONLY AVAILABLE AT
TRANSIENT FORCE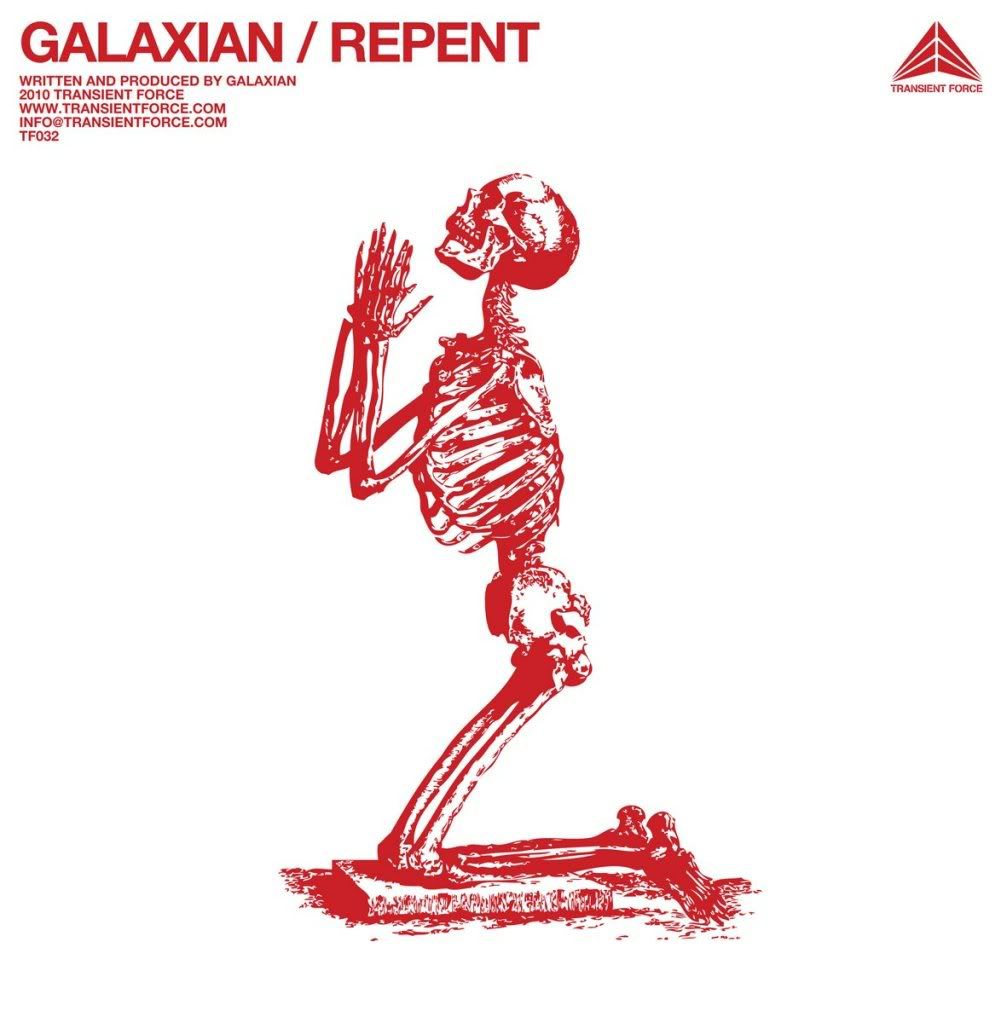 Pre - order now
Galaxian - The Looting Of Reason
"No-nonsense new release from Galaxian, who those of you in the know will remember from last year as this lively styled leftfield artist with oodles of passion and ideas debuted on his own Doppelganger imprint with the Interstellar favourite, 'End of Forever' CDr only album. This is Galaxian's first ever vinyl excursion and has been a favourite here for some time now since being picked-up by LKT for this blinding release. Galaxian's style is difficult to categorize, which is precisely why we dig it! Is it techno, is it electro, or something else completely...?! Who cares, as the funk, passion and positive energy is ever present in every sound piece of work here, from the moody opening intro, to the dizzying electronic, crazy-ass funk of 'Surge' and the unstoppable cyborg-juggernaut that is 'Warhead'. Immense! So enough of me chatting, check out the samples and you decide! Miss at your peril! "
*** PRE-ORDER THIS TITLE NOW! ***
Expected release date: feb/mar 2011
Limited edition vinyl with matte poster print
pre-order @
INTERSTELLAR SOUNDS
LINKS
FACEBOOK
MYSPACE
LIVE SETS
PREVIEWS, OLD & WORKING ON TRACKS
MICRON AUDIO DETROIT
LAST KNOWN TRAJECTORY
DOPPELGANGERRECORDS
SOLAR ONE MUSIC
MILITANT SCIENCE
TRANSIENTFORCE